Branching out

Yep, I am branching out all right - all of my other projects are so big and long right now, I forced myself into something that was a wee bit smaller. As my husband and I went out on a date last night, I finally went and got some short straight bamboo needles - in lieu of the LONG ones I had at home that was getting in my way and too big for the project.
This pattern came from
Knitty online
- one of the challenges that I am finding driving me crazy is the k3tog - using this kid mohair is a challenge enough, and this it forcing into frontiers that I have not delved into - I am trying to loosen up the stitch so I can to the k3tog more easily. Any suggestions gladly accepted.
Oh yes, also trying to follow a knitting graph. Reading right to left is a challenge and it is a bit like learning a new alphabet. Stretching and excercising these feeble brain cells.
Daring deception is blooming up a storm in my backyard. I took this picture at dusk and you can see the daylilies are still holding up before their demise in the night.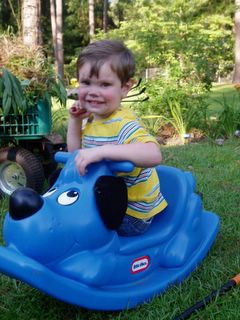 My garden helper Davis -
can you tell he worked hard in my backyard? He was a great helper by helping pick up pine cones. We also got a chance to get a taste of honeysuckle. However, I think his favorite part was the macaroni and cheese and hot dogs that we had for supper. Thank you Davis for helping out in our garden! Oh yes, his mom and sister helped in the garden too - we had lots of fun!